Love green tomatoes but don't know what to do with them? This article has got you covered! It reveals the yummiest and most inventive recipes for green tomatoes.
Even novices can try them! You'll be astounded by how scrumptious and varied these recipes are. Get ready to discover some delicious green tomato recipes!
It's not just fried green tomatoes either, although we don't think you can go wrong with that classic recipe.
Why cook with Green Tomatoes?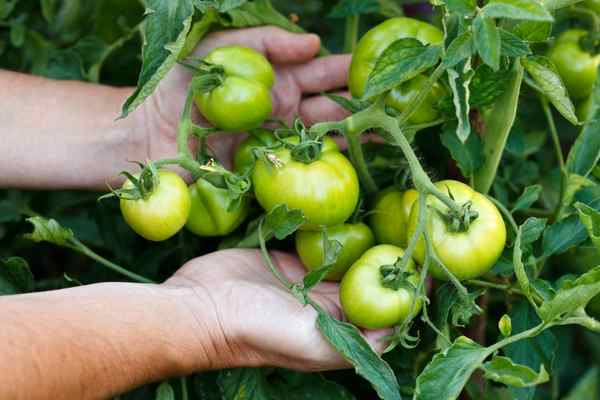 Cooking with green tomatoes can be a fun way to experience a different flavor.
Unripe tomatoes have a tart, tangy taste that works with many recipes. Plus, if you have extra tomatoes left on the plant for too long, cooking with them is a great way to not waste them.
Green tomatoes have a different flavor and texture compared to ripe ones. They are firmer and better at absorbing sauces and flavors.
This makes them great for dishes like pan-fried green tomatoes, Green Tomato Salsa, or Green Tomato Chutney. Additionally, they are a colorful addition to salads and sandwiches.
When cooking green tomatoes, avoid overcooking them to prevent them from becoming too mushy.
Green tomatoes are perfect for quick-cooking dishes like stir-fries or sautés, as they don't take as long to cook as ripe ones would.
You can add extra flavorings while they cook and still keep the tartness. Get creative! With a few easy steps, you'll have a yummy meal in no time!
The Best Green Tomatoes Recipes
And so, let's start with one of the best known and loved recipe.
1. Fried Green Tomatoes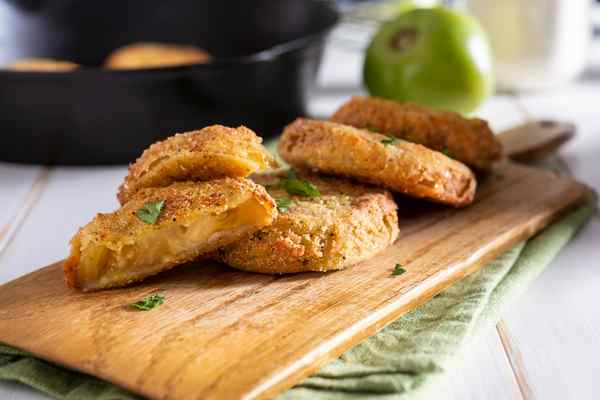 Fried green tomatoes, made famous by the movie with the same name, have been around for much longer.
A perfect way to use unripened tomatoes!
This dish is a fun and easy appetizer or side dish.
In this recipe Chef Chis Kennedy takes Fried Green Tomatoes to the next level by using Buttermilk, green tomato slices, and Cornmeal for the perfect crunch.
It's an amazing dish and one that pairs perfectly with tasty pork chops. I simply love fried green tomatoes, and I'm sure you will too.
2. Green Tomato Chutney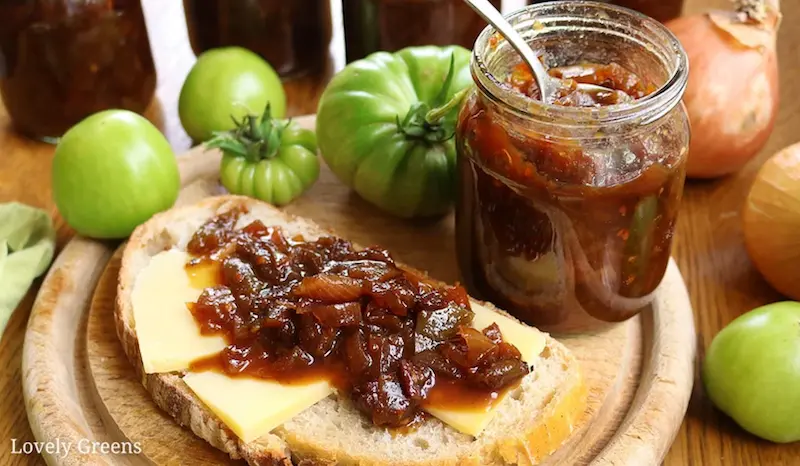 Moving on from fried green tomatoes, green tomatoes add a tangy flavor, perfect for chutney.
This condiment is great with many dishes, like curry and sandwiches.
Recipes vary, but usually include:
shredded tomatoes
sugar/honey
vinegar/juice
spices (e.g. cumin/cayenne)
garlic
onion
maybe other fruits (apples/raisins)
In this recipe Tanya Anderson makes a tangy, sweet and downright delicious Green Tomato Chutney that's sure to impress.
I think it pairs perfectly with a sharp cheddar grilled cheese sandwich, use sourbread for an extra special treat.
3. Green Tomato Salsa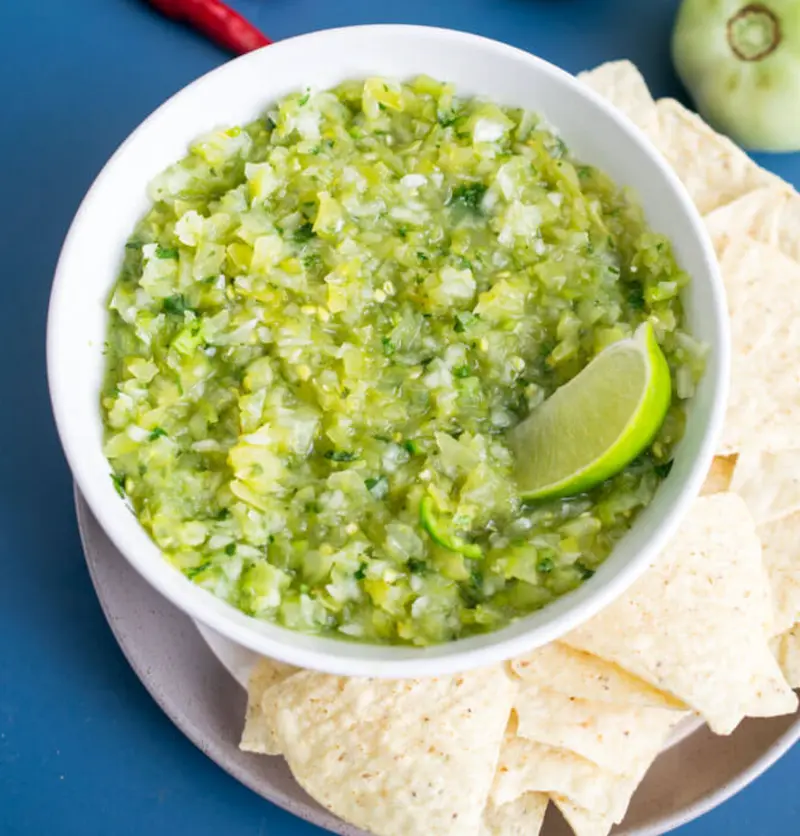 Green Tomato Salsa – a fiery and yummy treat! Even when tomatoes are out of season, you can still enjoy their flavor.
This salsa uses green tomatoes and it's delicious with tortilla chips or as a topping on tacos and enchiladas.
Heat level? You decide – add more or fewer jalapeños based on your taste.
In this recipe, Shannon from "Yup, it's Vegan" produced a Green Tomato Salsa Verde that's full of fresh flavors and is sure to make your mouth water.
I could literally sit down and eat a bowl of this stuff by itself, it's that good.
The crisp flavors pair perfectly with tacos, chips, salads, or pretty much anything (in my opinion).
4. Green Tomato Soup with Sausage and Rice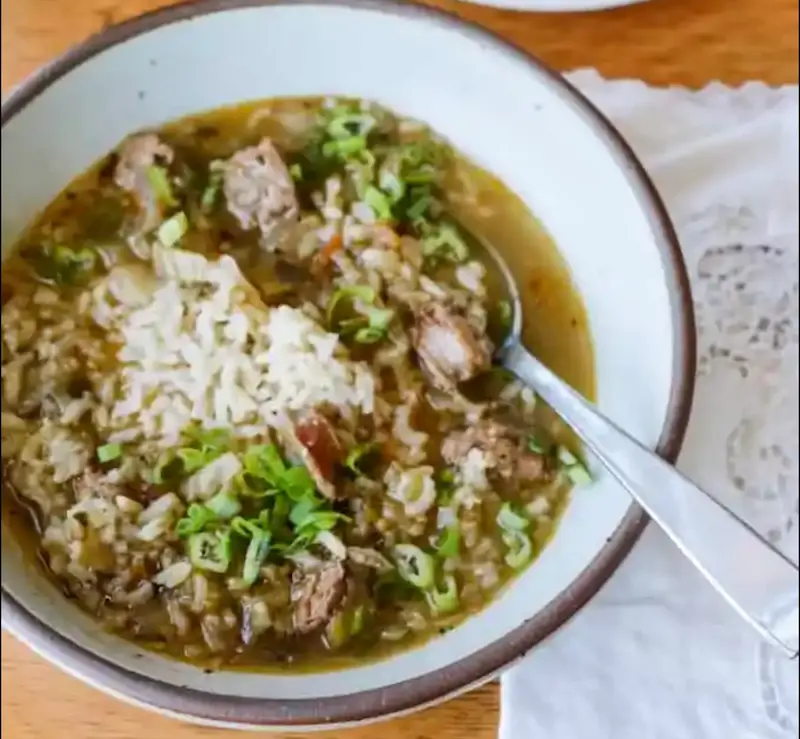 Green tomato soup is a tasty treat! Sharp green tomatoes, savory sausage, flavorful spices, and herbaceous rice make it comforting.
Enjoy it with crunchy bread or toasted baguette slices with butter.
Green tomatoes bring tart sweetness. Meanwhile, sausage adds an intense, slightly spicy zing.
Lastly, long-grain rice brings a nutty texture.
Have it on cold Autumn nights or chill it for a cool summertime treat! Yum! You can find the recipe for Green Tomato Soup with Sausage and Rice here.
5. Green Tomato Spice Cake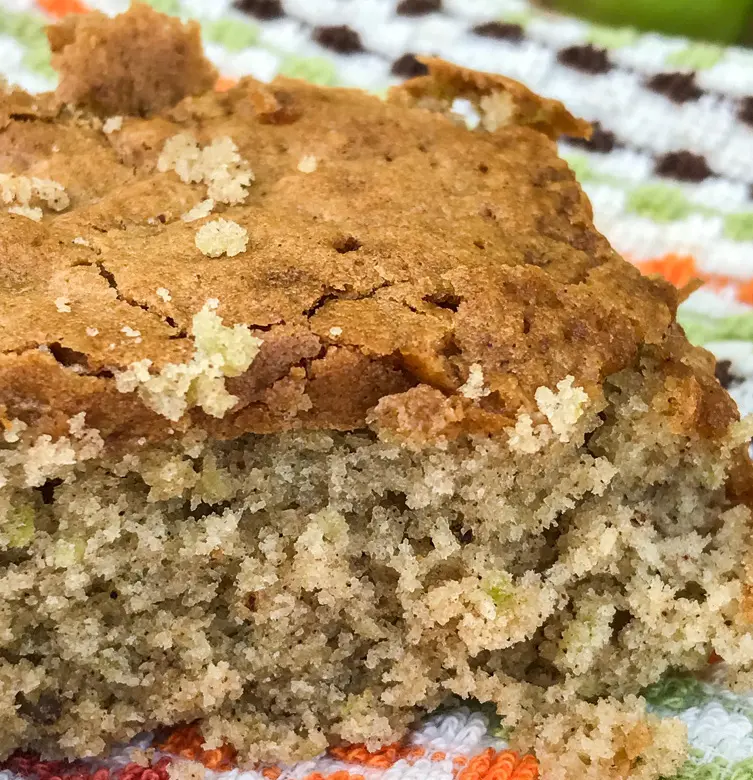 Green Tomato Spice Cake: a delicious and unique twist on traditional spice cake recipes.
Tangy tomatoes, nutmeg, cinnamon, and moist brown sugar – all in a sugary glaze. Perfect for breakfast, a snack, or dessert.
Perfect for the cold winter months, this recipe from "Daily Dish Recipes" produces a delectable Green Tomato Spice Cake. It's a real treat, and you may be surprised at how delicious it is!
The tartness of the tomatoes blends with spices for an incredible flavor.
Enjoy it warm or cold – either way, it'll have your taste buds singing!
6. Green Tomato Toast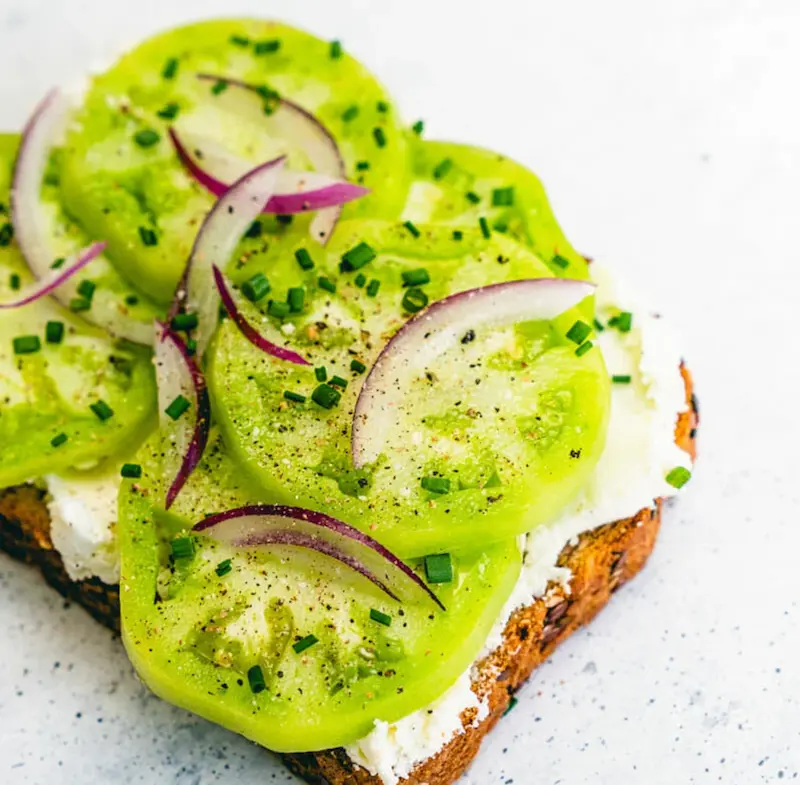 If you want something simple and yummy, try green tomato toast! It's a breeze to make and needs barely any ingredients.
It's the best way to enjoy your green tomatoes when they're freshly picked.
I love it with a slather of cream cheese and freshly cracked black pepper.
This recipe from "A Couple Cooks" shows you how to make a savory Green Tomato Toast that packs a flavor punch!
Top your toast with fresh feta crumbles, fried garlic chips, and herbs for an extra special treat.
7. Grilled Green Tomatoes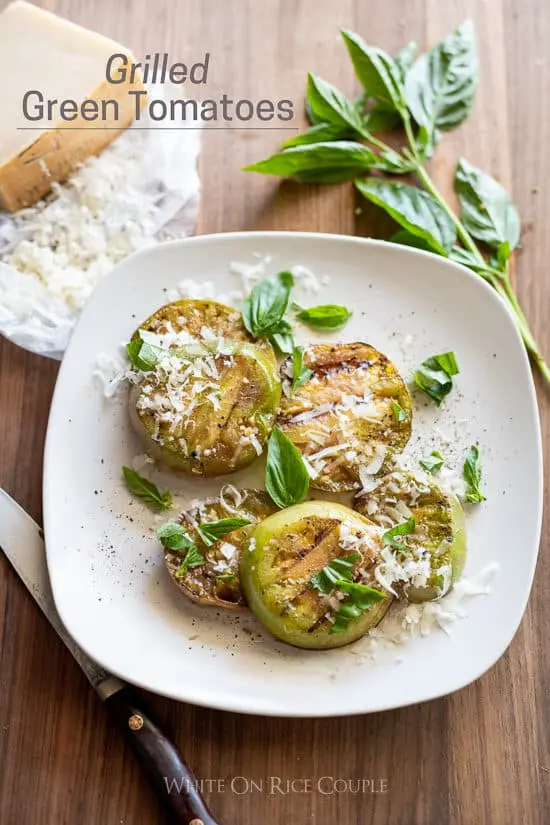 Grilled green tomatoes – in a word, Yum! Grilling brings out the sweetness of tomatoes and adds a smoky flavor.
This recipe from "White on Rice Couple" is super easy and produces an exceptionally flavorful dish.
A simple marinade with balsamic vinegar, olive oil, garlic, herbs, and spices takes this dish to the next level.
Grill until lightly charred and serve as a side or top on salads for extra crunch.
8. Pickled Green Tomatoes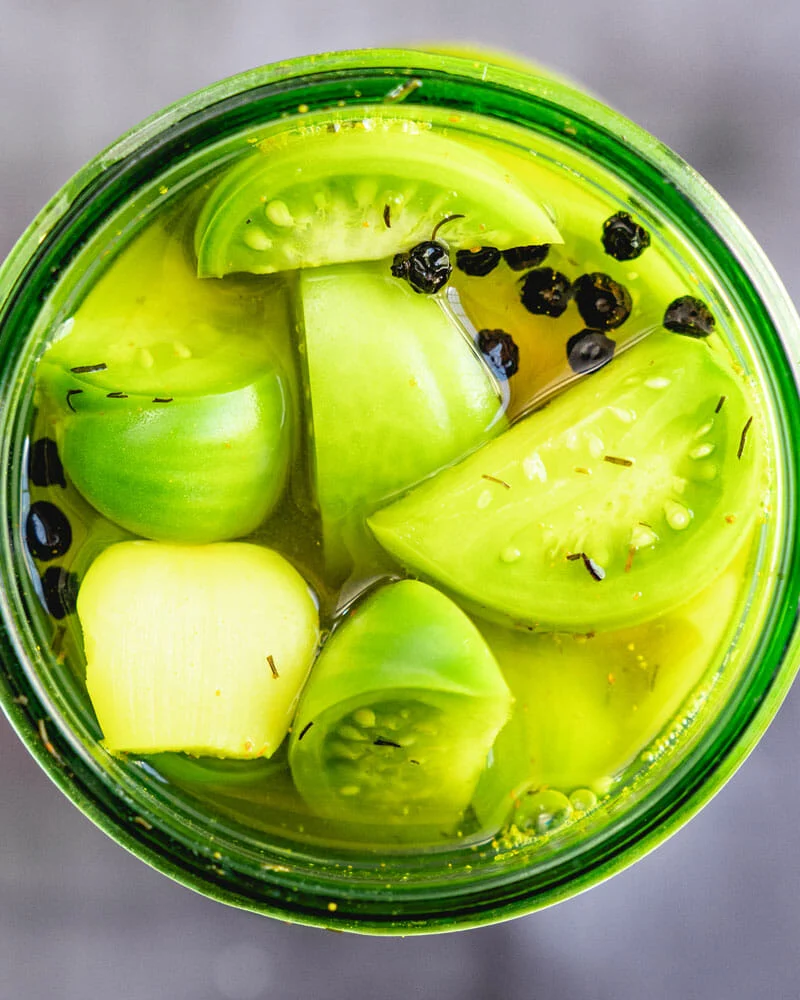 Pickled green tomatoes are a traditional German delicacy that has become popular in the US.
They have a great flavor and require minimal effort to make.
This recipe uses a delicious bring for extra taste and no canning or complex preservation techniques are needed.
Pickled Green Tomatoes are a great topping for burgers, salads, and sandwiches.
They also make a tasty addition to cheese boards or charcuterie platters.
Another great recipe from "A Couple Cooks" guides you through the simple steps of making Pickled Green Tomatoes. Make them in just one hour and store them in your fridge for up to two weeks.
9. Roasted Green Tomato Soup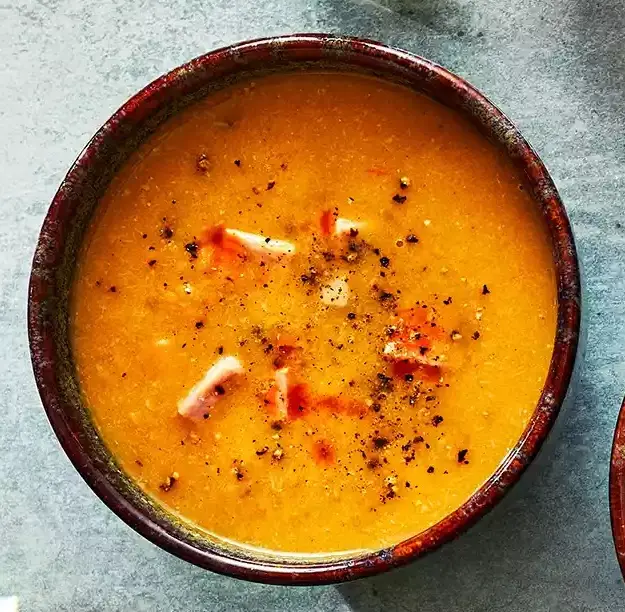 Green tomatoes – a tart delight! Roast 'em up for 15 minutes and enjoy their mild sweetness. They can be added to soups, pastas, salads, sandwiches, sauces and more. Try green tomato soup for a unique flavor!
This recipe from "The Spruce Eats" uses roasted green tomatoes, onions and garlic for a hearty and flavorful soup. Simply top with fresh herbs for a vibrant finish. It's perfect for cozy nights in or as an appetizer at dinner parties. One of the best on our green tomato recipes countdown.
10. Green Tomato Stew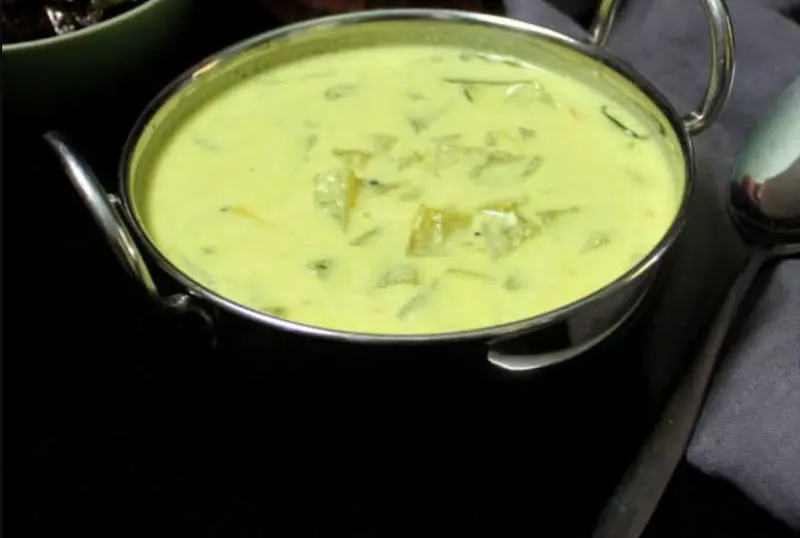 This hearty green tomato stew recipe from Holy Cow Vegan combines green tomatoes, curry leaves, hot peppers, and more to create a delicious, soul-satisfying dish.
Perfect for cold winter days or to make use of extra green tomatoes!
This recipe is full of vibrant flavors and spices like cumin, ginger, garlic, and coriander. Serve it with a side of rice or quinoa for a complete meal.
11. Marinated Green Tomatoes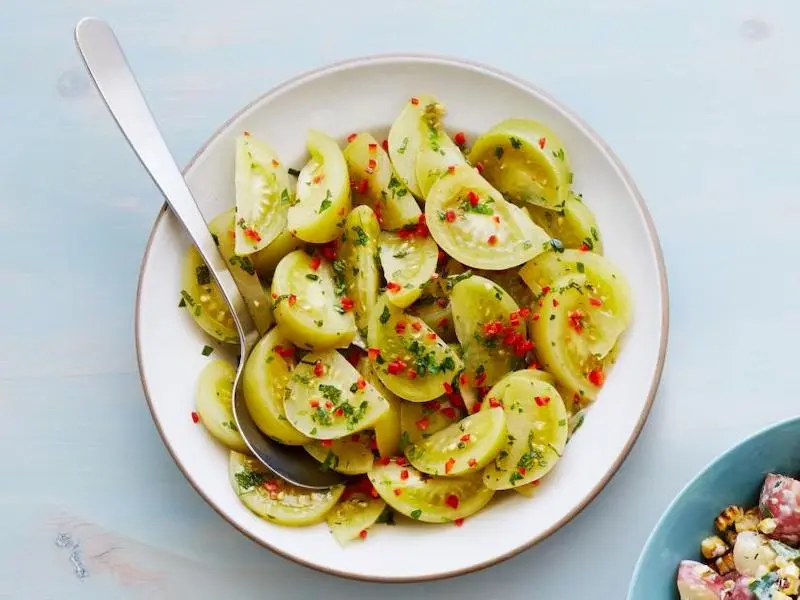 These marinated green tomatoes from Food Network make a great addition to salads or sandwiches. The tangy marinade includes red wine vinegar, garlic, and olive oil, and they can be served chilled or at room temperature.
Make them ahead of time and store them in the fridge for a quick and easy side dish!
12. Green Tomato Chili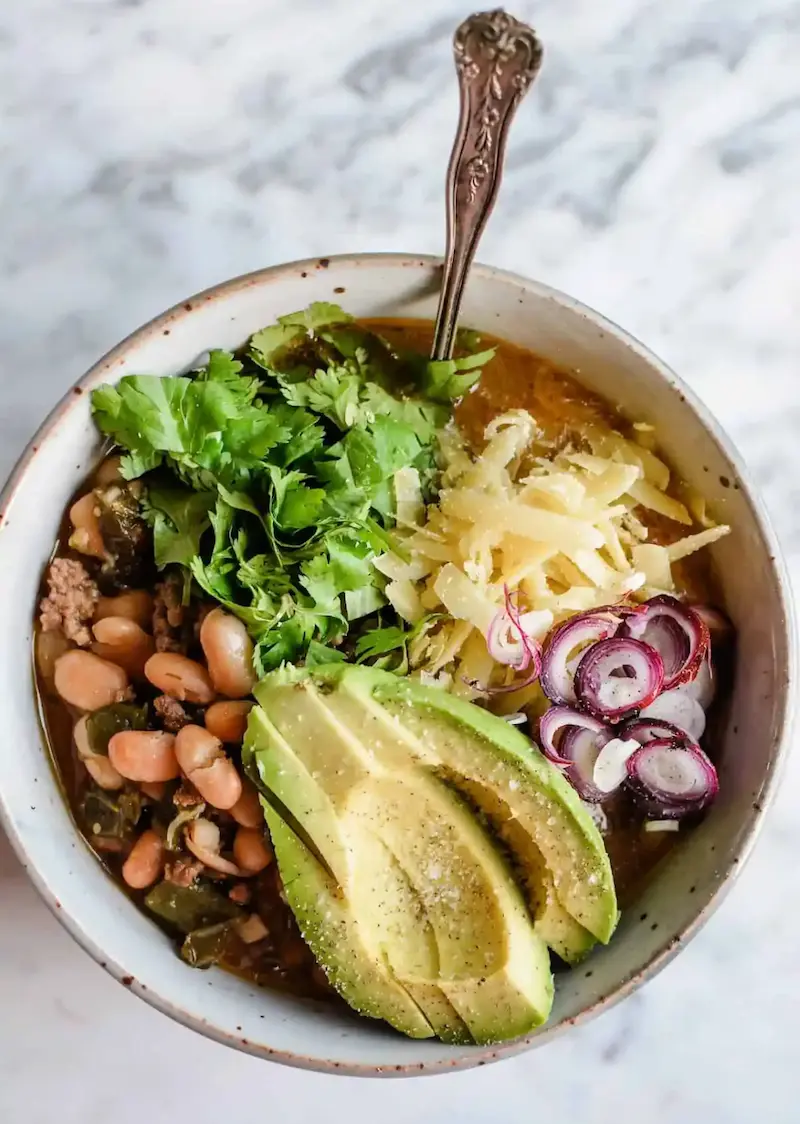 Green tomatoes chili = comfort food bliss! One of my favorite green tomato recipes.
This recipe from one of my favorite blogs "Hola Jalapeño" (kudos to Kate!) is full of flavor and nutritious ingredients. It combines green tomatoes, red beans, bell pepper, jalapeños, and spices for a hearty chili that's sure to please.
Top it with avocado or sour cream for added deliciousness and serve with warm tortillas or brown rice.
13. Green Tomato Casserole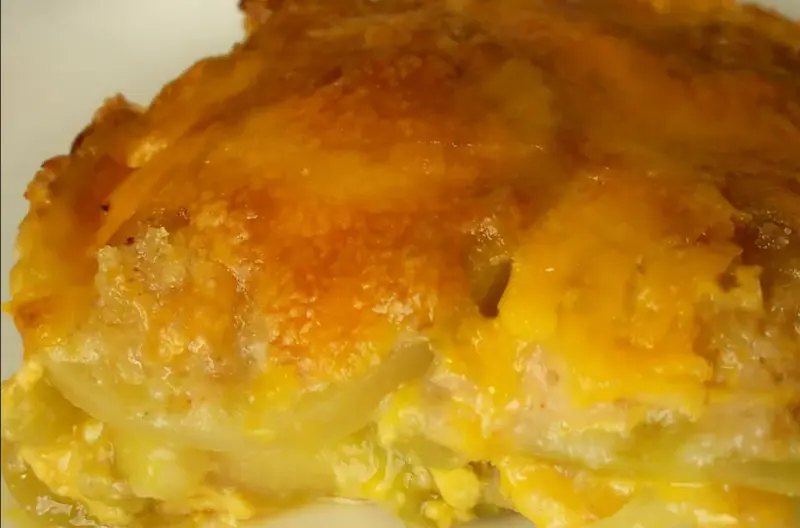 This cheesy green tomato casserole recipe from Food.com is comfort food at its finest. It's loaded with green tomatoes, onions, and cheddar cheese. The tomatoes absorb the flavors of the cheese and spices for a unique taste.
This Green Tomato Casserole is perfect for busy weeknights when you don't have much time to cook but still want something delicious! Serve it with a salad or roasted vegetables for an easy meal. That's why it makes it into our best green tomato recipes list.
14. Green Tomato Recipes for Gazpacho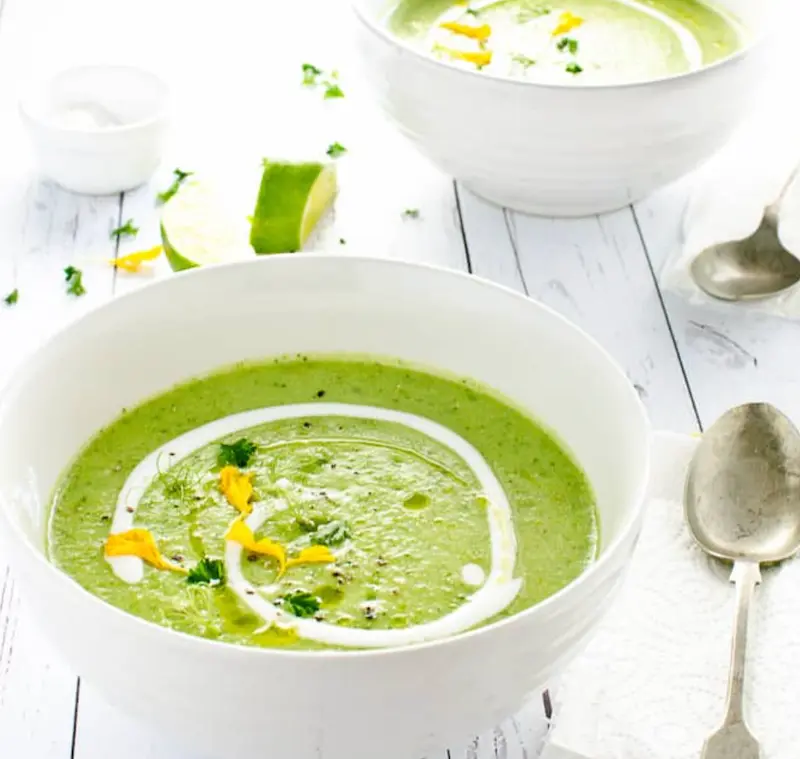 This refreshing gazpacho from The Endless Meal combines green tomatoes with cucumber, bell pepper, and onion for a refreshing cold soup. Perfect for summer days!
It's full of green goodness, has a nice crunch from the cucumber and bell pepper, and is spiced with garlic, cumin, and paprika.
Topped with fresh herbs and diced tomatoes – it's the perfect way to cool off on hot days!
15. Green Tomato Pie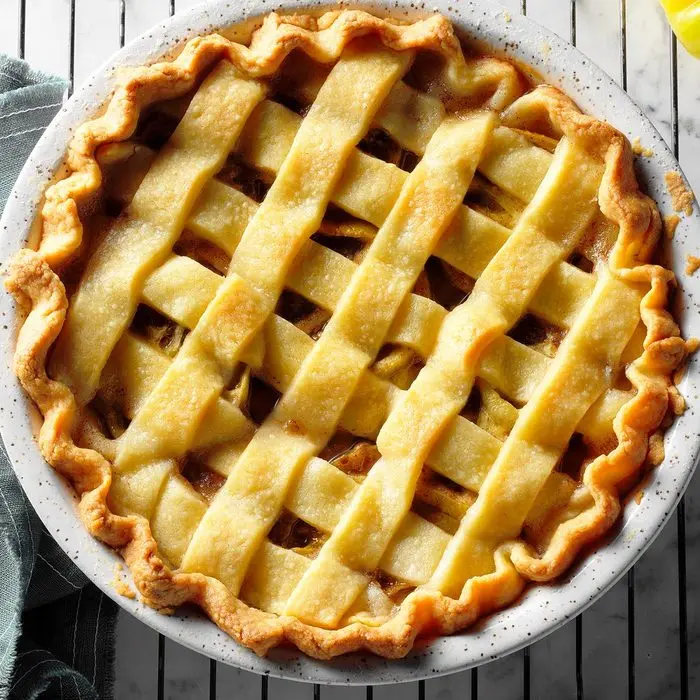 Green tomato pie is a unique twist on the classic apple pie. The tart flavor of green tomatoes works perfectly with sugar and spices for an unforgettable dessert.
This green tomato pie recipe from "Taste of Home" puts a fresh spin on the traditional fruit pie. It uses green tomatoes, brown sugar, and spices to make a creamy custard filling inside a flaky pastry crust. Top it off with some vanilla ice cream for an extra special treat!
16. Green Tomato Hot Sauce
This unique hot sauce from Cornersmith combines sweet, tart green tomatoes with other flavorful ingredients like garlic, onion, and cayenne pepper.
It's an easy recipe, perfect for those who love a bit of spice!
Try it on tacos for some additional kick, just add more cayenne pepper, or use it as a condiment to liven up any meal.
Pro Tips for Cooking with Green Tomatoes
Tip 1: Choose firm, unblemished tomatoes. The firmer they are, the better they will hold up during cooking.
Tip 2: Don't over-cook green tomatoes – this can make them mushy and not as flavorful.
Tip 3: Try adding extra flavorings while cooking to bring out their tartness. Add herbs, spices, garlic, or citrus juice for an amazing taste!
Tip 4: Serve green tomatoes in salads and sandwiches for a different experience or use them as a topping on tacos and enchiladas for extra crunch.
Tip 5: Experiment with different green tomato recipes – there are endless variations of dishes you can make with green tomatoes!
What can I do with all my green tomatoes?
If you have an abundance of green tomatoes, there are plenty of yummy recipes to try!
From fried green tomatoes and chutney, to roasted tomato soup and marinated tomatoes – the possibilities are endless.
Try some of these dishes and get creative with your own concoctions. You'll be amazed at how delicious green tomatoes can be!
Are green tomatoes good for cooking?
Yes! Green tomatoes are great for cooking – they have a tart flavor that works with many recipes, plus they are firmer and better at absorbing sauces and flavors.
They are perfect for quick-cooking dishes like stir-fries or sautés, as well as salads and sandwiches. The alternative is to ripen them and then cook them.
What is the best way to preserve green tomatoes?
One of the best ways to preserve green tomatoes is by pickling them. Pickled green tomatoes are a traditional German delicacy that has become popular in the US, and they have a great flavor with minimal effort to make.
You can also store them in your fridge for up to two weeks. Additionally, you can freeze or roast them.
What is the disadvantage of green tomato recipes?
Green tomatoes and other unripe veggies can occasionally upset the stomach and pose health risks if consumed in excess.
There will be diverse responses because the prevalence of this issue differs from person to person.
When cooking with green tomatoes, also be sure to avoid overcooking them as they can become too mushy.
Overall, green tomato recipes can be delicious, but it is best to exercise caution when consuming them and stick to moderation.
Otherwise, feel free to enjoy all the green tomato recipes above once you harvest them from your vine.
Final Thoughts
Green tomatoes are a great ingredient to cook with! They offer a unique tart flavor and are versatile enough to be used in a variety of recipes.
From fried green tomatoes and chutney, to roasted tomato soup and marinated tomatoes – there's something for everyone here. So go ahead, get creative, and try your hand at making some of these green tomato recipes! Bon appétit!