Are you noticing yellow tomato plant leaves? Don't fret! In this comprehensive guide, we will explore the 8 key reasons behind this phenomenon.
TL;DR:
Nutrient deficiency, sun scald, over or underwatering, poor airflow, diseases, pests, natural causes, and cold weather are the factors that can contribute to those unwanted yellow leaves.
By understanding these causes, you'll be equipped to take the necessary steps to restore your tomato plants' health and vibrant green foliage. So let's dive in and unravel the mysteries behind yellowing tomato leaves.
1. Natural causes
In the realm of tomato growing, it is a regular occurrence for the initial leaf set, known as cotyledons, to exhibit yellowing and eventually detach from nearly every tomato plant. Such an event commonly takes place during the early stages of the growth season. 
While this may evoke concerns in the hearts of many novice gardeners, rest assured, there is no cause for alarm. This natural phenomenon is deemed completely normal and inherent to the tomato plant's life cycle.
Furthermore, it is important to acknowledge that certain leaves may display a yellow hue and wither throughout the season. Hence, it is essential to cultivate a mindset of acceptance towards the occurrence of yellowing leaves on the tomato plant. 
The important part lies in the vibrancy and robustness of the latest foliage, for it is within these new leaves that the tomato plant channels its vital energy.
2. Nutrient (Nitrogen) deficiency 
Nitrogen is an essential nutrient that is crucial for the growth and development of plants, including tomato plants. It is a key component of amino acids, proteins, enzymes, and chlorophyll, all of which are essential for various physiological processes within the plant.
What is the role of Nitrogen for tomato plants?
We'll go a little more scientific here, but don't worry, it's understandable and brief. In the soil, nitrogen exists in different forms, including organic matter, ammonium (NH4+), and nitrate (NO3-). Tomato plants obtain nitrogen primarily in the form of nitrate through their root system. 
This uptake is facilitated by specific transporters in the root cells. Once inside the plant, nitrogen is utilized for various purposes.
Within a tomato plant, nitrogen plays a crucial role in promoting vigorous vegetative growth, leaf development, and overall plant structure. It contributes to the production of chlorophyll, the green pigment responsible for photosynthesis, which is essential for energy production and plant metabolism.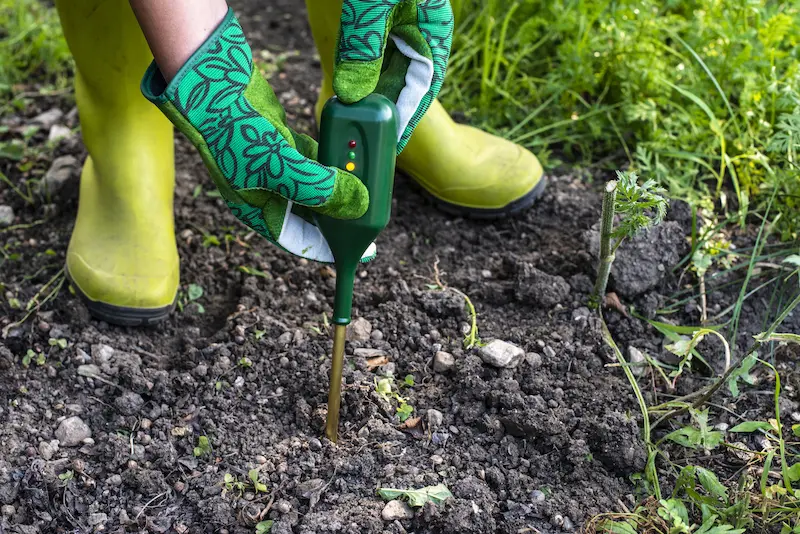 Nitrogen is also involved in the synthesis of proteins and enzymes, which are vital for cell division, growth, and various metabolic processes.
How to know your tomato plants need Nitrogen?
When a tomato plant experiences a deficiency of nitrogen, several noticeable symptoms may arise. The leaves of the plant may display a general pale green or yellowish color, starting from the older leaves towards the younger ones. 
This yellowing, known as chlorosis, is due to the decreased production of chlorophyll. Additionally, the growth of the plant may be stunted, and leaves may appear smaller and less vibrant.
What can nitrogen deficiency lead to for a tomato plant?
In terms of fruit production, nitrogen deficiency can lead to reduced yields and smaller fruit sizes. The overall health and vigor of the plant are compromised, making it more susceptible to diseases and pests. 
The solution to Nitrogen Deficiency
It is important to address nitrogen deficiency promptly by providing appropriate nitrogen fertilization, either through organic amendments or synthetic fertilizers, to restore balance and promote optimal growth and development of the tomato plant.
Feed the plant right away if you notice the bottom set of leaves are starting to turn yellow. Once you've done this make sure to get your plants on a consistent fertilizing schedule. This is crucial for their growth and proper development.
We have a special post dedicated entirely to tomato fertilizers where we address what are the best fertilizers you can get for your tomato plant.
3. Sunscald
Another one of the causes for yellowing leaves in tomato plants is sun scald, which occurs when plants are abruptly exposed to intense sunlight after being moved from indoor environments to outdoor gardens. 
While the leaves affected by sunscald may appear more white than yellow, the condition can often be mistaken for typical yellowing. To address this issue, it is essential to understand that sun scald is a natural occurrence and the plant will eventually outgrow it. 
The key is to provide a gradual transition for the plants, a process known as hardening off. This involves slowly increasing the amount of time the tomato plants spend in direct sunlight over days or weeks. 
By acclimating the plants to the outdoor conditions gradually, they can adapt and develop the necessary defenses against excessive sunlight, minimizing the likelihood of leaf discoloration.
4. Overwatering or Underwatering
When growing tomatoes in pots, containers, or raised beds, it is crucial to ensure proper drainage in the soil. Well-drained soil allows excess water to flow out, preventing waterlogged conditions that can harm the plants.
On the other hand, if tomatoes are planted in the ground, it's important to assess the soil composition, especially for clay-rich soil that tends to have poor drainage characteristics.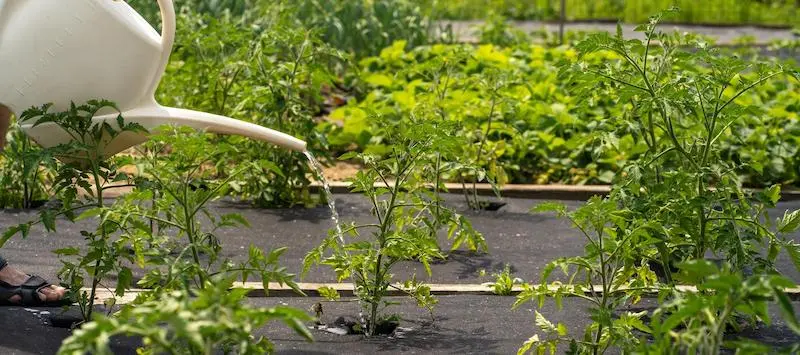 Overwatering can lead to more than just yellowing leaves in tomato plants. It can cause the leaves to droop, certain parts of the plant to wither or die, and make the plant more susceptible to diseases. The excess moisture creates a favorable environment for pathogens to thrive, potentially leading to various fungal or bacterial infections.
On the other side, underwatering can also contribute to yellowing leaves and plant stress. When tomatoes do not receive adequate water, they may exhibit wilting, limited growth, and reduced fruit production. It's important to strike a balance by providing consistent and even watering, neither overdoing it nor depriving the plants.
The solution to underwatering and overwatering
Developing a regular watering schedule and closely monitoring precipitation levels can help maintain optimal moisture levels for tomato plants. This practice not only prevents yellowing leaves but also reduces the risk of issues like cracking tomatoes later in the season and blossom end rot, a common condition caused by calcium deficiency aggravated by irregular watering.
5. Poor airflow
Tomatoes thrive when they have ample airflow around them, which necessitates appropriate tomato plant spacing and proactive measures throughout the growing season to optimize this airflow. Here are some effective strategies to accomplish this.
Spacing Between Plants
It is essential to provide the recommended spacing between tomato plants, considering the specific type (indeterminate or determinate). Indeterminate varieties generally require more space for their vigorous growth, while exceptions can be made for compact varieties like patio or micro varieties that don't demand as much spacing.
Pruning Bottom Leaves and Shoots
To enhance airflow, prune the bottom leaves and shoots of the tomato plant up to about a foot off the ground. This practice ensures that the air at the base of the plant can freely circulate, preventing stagnant pockets and promoting ventilation.
Pruning Suckers
Tomato suckers are the small shoots that grow in the leaf axils, which are the points where the leaves attach to the main stem of the tomato plant. They are lateral growths that emerge between the main stem and the branches and have the potential to develop into new stems if left unpruned.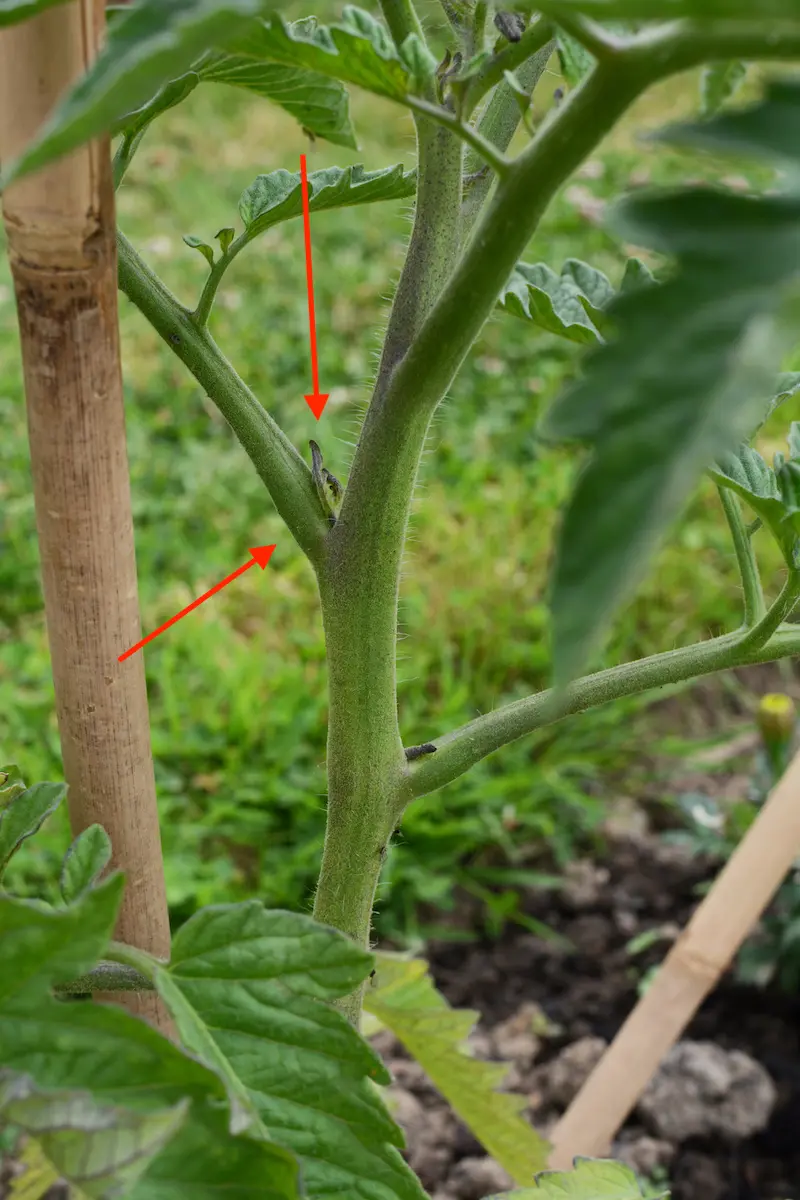 For indeterminate tomato varieties (excluding grape and cherry tomatoes), it is advisable to remove the suckers and train the main stem upward along a trellis or stake. This pruning method helps open up the plant structure, allowing air to flow more efficiently and reducing crowding among branches.
Pruning Excess Foliage
If you have a particularly bushy tomato plant, selectively remove some of the foliage to thin it out. This practice is particularly common with determinate varieties. By thinning the plant and ensuring visibility through it from all angles, you create pathways for air to circulate. This not only enhances airflow but also reduces humidity levels, minimizing the risk of diseases taking hold.
By implementing these measures, you can optimize airflow within your tomato plants. Proper spacing, strategic pruning, and thinning of foliage enable air to move freely through the plant, reducing the chances of stagnant air, excessive humidity, and disease development.
6. Diseases
Several diseases can contribute to yellowing leaves on tomato plants, including bacterial spots, Septoria leaf spots, early blight, and late blight. These diseases can cause yellowing and discoloration in the foliage, impacting the overall health and productivity of the plant.
Bacterial spots, caused by bacterial pathogens, result in small, water-soaked lesions with a yellowish halo on the leaves. Septoria leaf spot, caused by the fungus Septoria lycopersici, leads to the development of small, dark spots with gray centers on the lower leaves. Early blight, caused by the fungus Alternaria solani, manifests as concentric rings of yellowing and browning on older leaves, eventually leading to defoliation. Late blight, caused by the oomycete pathogen Phytophthora infestans, causes large, irregularly shaped lesions with a greenish-gray color on the foliage.
To mitigate the impact of these diseases, it is important to select tomato plant varieties that are known for their resistance to common diseases prevalent in your specific area. Conducting thorough research and consulting local gardening resources can help identify the right disease-resistant varieties suitable for your region.
By choosing resistant varieties, you can significantly reduce the risk of disease development and the associated yellowing of leaves. Prevention is key in managing these diseases.
7. Pests
The presence of certain pests, such as aphids, thrips, and whiteflies, can lead to yellowing or browning of tomato leaves as they feed on the leaf tissue, causing damage and distortion over time.
One effective solution to combat these pests is to incorporate companion plants into your garden. By planting companion plants that attract beneficial insects, such as ladybugs, lacewings, and parasitic wasps, you can naturally introduce predators that will feed on the pests and help control their population. These beneficial insects act as natural pest control, reducing the need for chemical sprays and allowing your tomato plants to thrive without interference.
When companion plants are strategically chosen to attract beneficial insects, they create a biodiverse environment that supports a healthy ecosystem. Flowers such as marigolds, dill, yarrow, and parsley are known to attract beneficial insects. Integrating these companion plants throughout your garden can help draw in the predators that will prey on pests, effectively controlling their numbers and protecting your tomato plants.
However, if you are growing tomatoes indoors and encounter pest infestations without the presence of beneficial insects, additional measures may be required. In such cases, using insecticidal soaps or other suitable insecticides can help manage the pests. It is important to carefully follow the instructions provided by the manufacturer and use these products judiciously to minimize any potential adverse effects.
8. Cold weather
As the season progresses, your tomato plants will encounter increasingly colder temperatures. When the temperature consistently drops below approximately 50°F (10°C), the tomatoes will undergo stress, resulting in various symptoms such as gradual plant decline and leaf drop.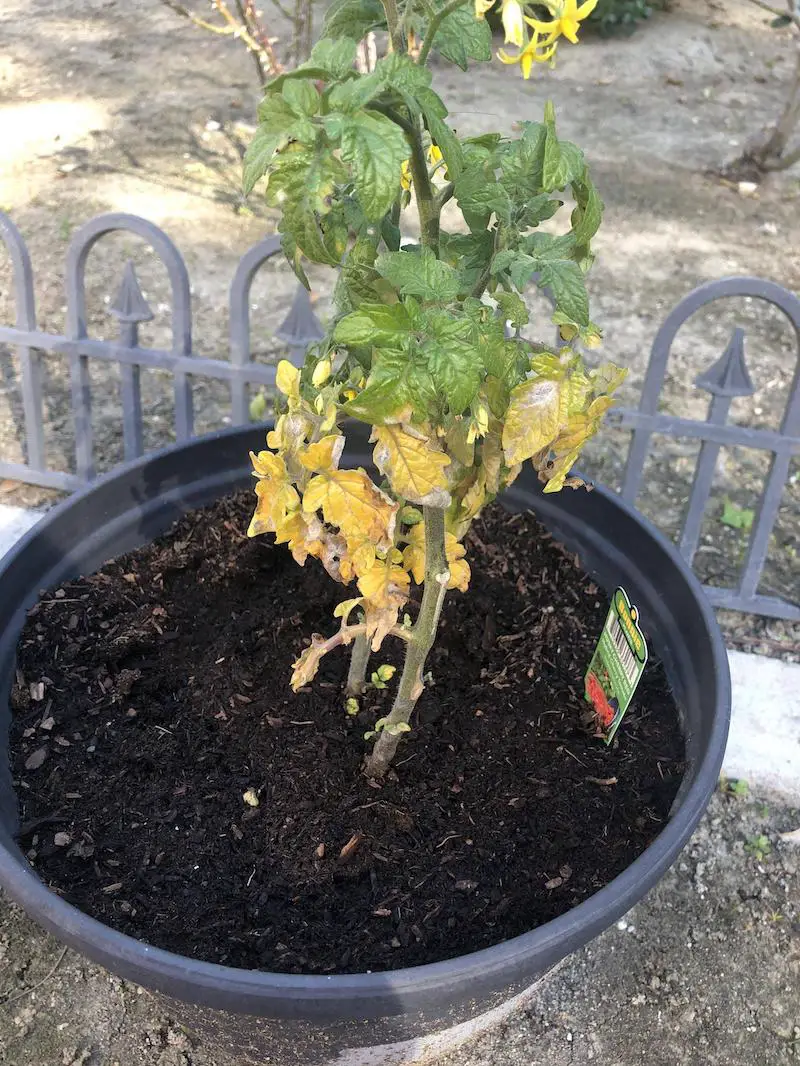 This natural process occurs throughout the plant, exhibiting more sporadic and random yellowing rather than being localized to the bottom. If you observe widespread yellowing in conjunction with colder temperatures, it is likely the primary underlying cause.
Consider protecting the plants, although there is limited control over this natural phenomenon.
TOP 3 TIPS To Prevent Yellow Tomato Plant Leaves:
Get on a consistent watering schedule
Get on a consistent fertilizing schedule
Research and do everything in your power to avoid diseases
Bottom line
There you have it. A comprehensive list of pretty much all reasons that might result in yellow tomato plant leaves. With a bit of research, before you start growing your tomatoes, you can easily prevent yellow tomato leaves (in most cases).
Keep learning and growing tomatoes! I've also made my fair share of mistakes, but that hasn't stopped me from growing tomatoes for over 30 years and counting.