Cherokee Purple tomatoes (Solanum lycopersicum 'Cherokee purple') are an excellent choice if you want to grow sweet tomatoes that feature a complex flavor profile. In this post, you will learn how to plant and grow Cherokee Purple tomatoes.
We will teach you the ideal growing conditions, step-by-step instructions for sowing, and what you need to do to maintain these heirloom tomatoes for a bountiful harvest.
Cherokee Purple Tomatoes Profile
Sun: 6-8 hours a day
Soil: Rich and well-draining
Water: 1-2 inches a week (2.54 – 5.08 cm)
65-85 degrees Fahrenheit (18-30 degrees Celsius)
65-85% humidity
72-90 days to maturity
Season: Summer
Heat-tolerant
Drought-tolerant
Disease-resistant
Grows up to 9 feet tall (2.74m) and up to 4 feet wide (1.22m)
Plant 18-36 inches apart (45cm to 90cm)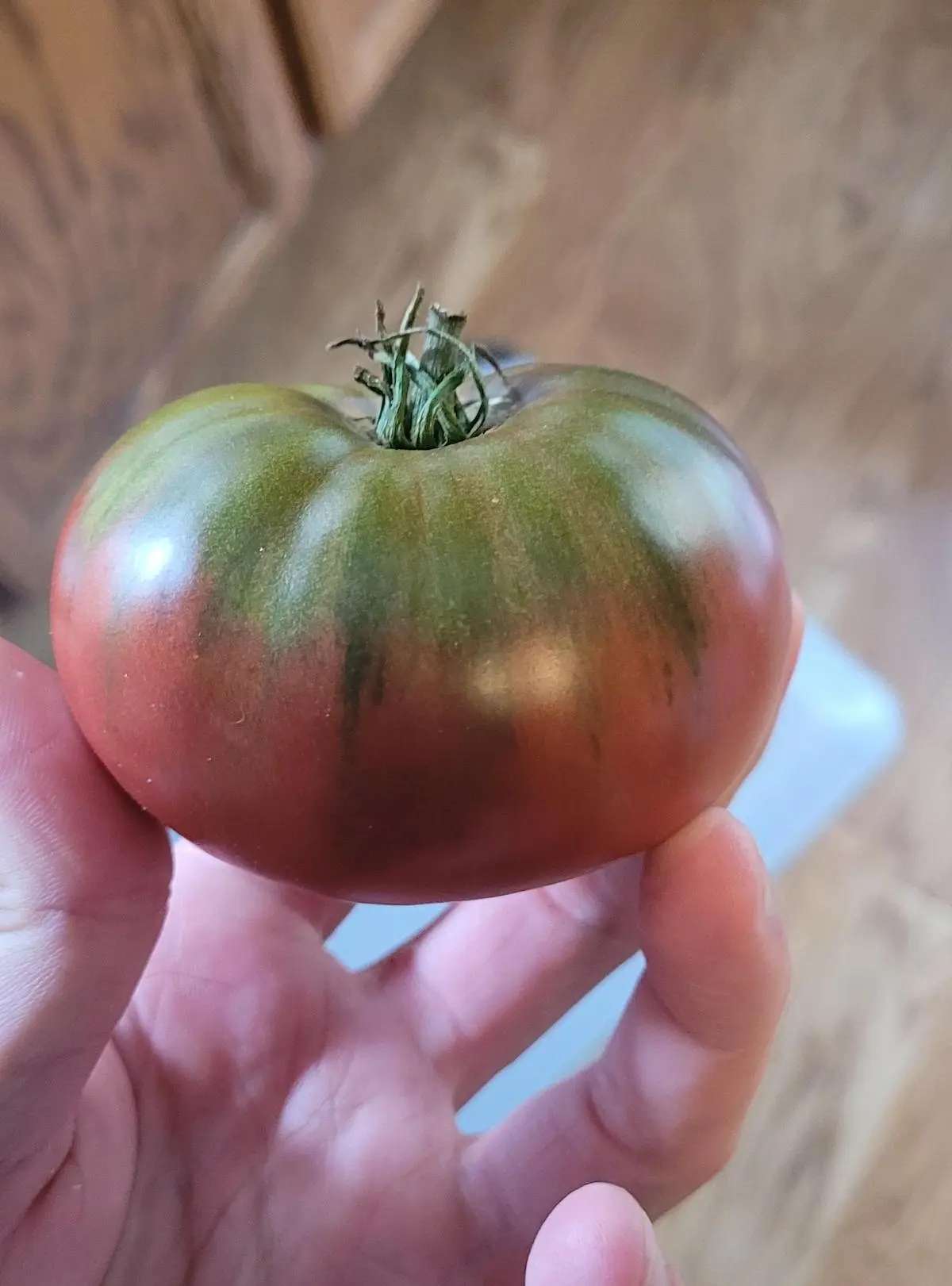 Why Grow Cherokee Purple Tomatoes?
Exquisite Flavor
Cherokee Purple tomatoes will delight you with their distinctive taste: sweet, with a touch of smoky, earthy richness. 
Appearance
These tomatoes are as beautiful as they are delicious, featuring green shoulders and a dark rosy hue. They can add color to your cuisine along with flavor.
Hardiness
Cherokee Purple tomatoes do a pretty good job standing up to heat, drought, and disease. So long as you are providing them with proper care, they should be happy in your garden.
Even though they are not as disease-resistant as hybrids, you will find they tend to be a bit less likely to succumb to disease than many other types of heirloom tomatoes. 
Plant them again next year
This heirloom tomato is classified as an open-pollinated plant. That is great news for you, as it means you can harvest their seeds, plant them, and grow new tomatoes next year that will closely resemble the originals. 
Ideal Growing Conditions for Cherokee Purple Tomatoes
Now you know why you should plant Cherokee Purple tomatoes in your garden. But are your growing conditions suitable for this crop? Let's find out by going over the sun, soil, and water requirements for these heirloom fruits. 
Sun Requirements
Like other tomatoes, Cherokee Purple tomatoes need plenty of sunlight to flourish. Make sure to plant them where they receive a minimum of 6-8 hours of direct sun daily. 
Even though you should plant these tomatoes in full sun, you need to be aware that the fruits may be damaged by sunscald.
The key to preventing this problem is simply to ensure that your plants are getting adequate nitrogen and are disease-free. They will produce enough foliage to shield the fruits from too much direct sun exposure. 
Soil Requirements
Plant your Cherokee Purple tomatoes in rich, well-draining soil. The soil should be moist but not wet. Like other plants, these tomatoes are susceptible to rot and fungal disease if they do not have sufficient drainage. 
Amending your soil with compost is a great way to ensure that water can drain. The compost will also introduce additional nutrition to the soil, making for even better-growing conditions.
The soil pH should be neutral or mildly acidic, or mildly alkaline. Try a range of 6.5 to 7.5. 
Water Requirements  
You will need to give your Cherokee Purple tomatoes 1-2 inches of water per week. Precipitation may sometimes take care of their watering needs, but when it does not, you will need to water your tomatoes.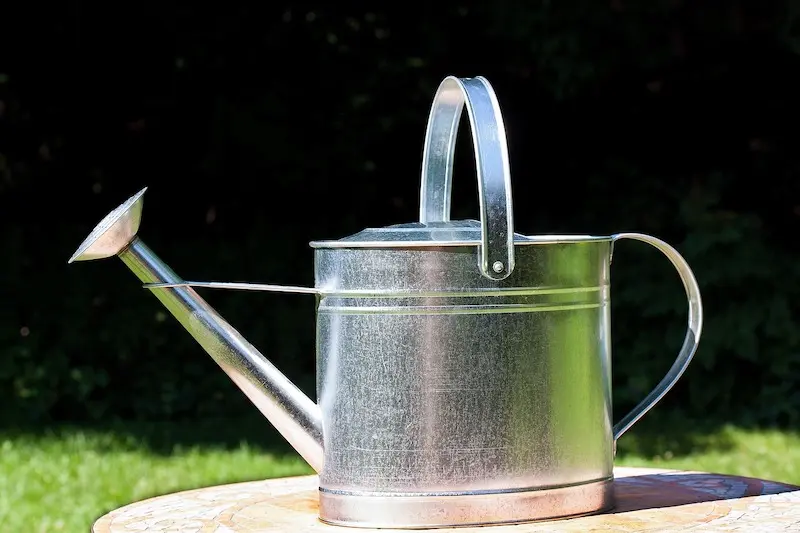 How do you know when the time is right? Push your finger down into the soil. Are the top two inches dry? If so, then your tomatoes are probably pretty thirsty.
When you water, do so from below at the base of the plant. If you water from above, you might invite disease. Avoid water splashing from the soil to the foliage. You may want to try using a drip hose.
How to Plant Cherokee Purple Tomatoes Step-by-Step
Now that you understand what Cherokee Purple tomatoes need in terms of sun, soil, and water, let's explain how you can grow them from seeds.
Either purchase Cherokee Purple tomato seeds or harvest them from an existing plant. Start the seeds around 6-8 weeks before you expect the final frost. Since it is too cold outside for them to survive at this point, you will either need to begin this process inside your home or use a greenhouse. 
Step 1 – Tray Preparation
Get seed trays with drainage holes. Fill them with a rich seed starting mix.
Step 2 – Moisten the seeds
Fill a spray bottle with water, and use it to moisten the seed starting mix. If there is excess water, wait for it to drip through the drainage holes so that the seed starting mix is not wet.
Step 3 – Sow the seeds
Sow the seeds and cover them with more seed starting mix. They should be anywhere from 1/8 inch to ½ inch down.
Step 4 – Awaiting germination
Wait for your seeds to germinate. Over the weeks ahead, you will need to keep moistening the seed starting mix. Be patient; this process takes time.
While the spray bottle technique can work fine, another option is to water the seed trays from below by filling a separate tray with water and then placing the containers with the seeds inside. The water will seep up through the drainage holes. 
Step 5 – Water the seedlings
You should see the seedlings pop up after a couple of weeks. Keep watering them as needed while they continue to develop. Do not overwater the plants!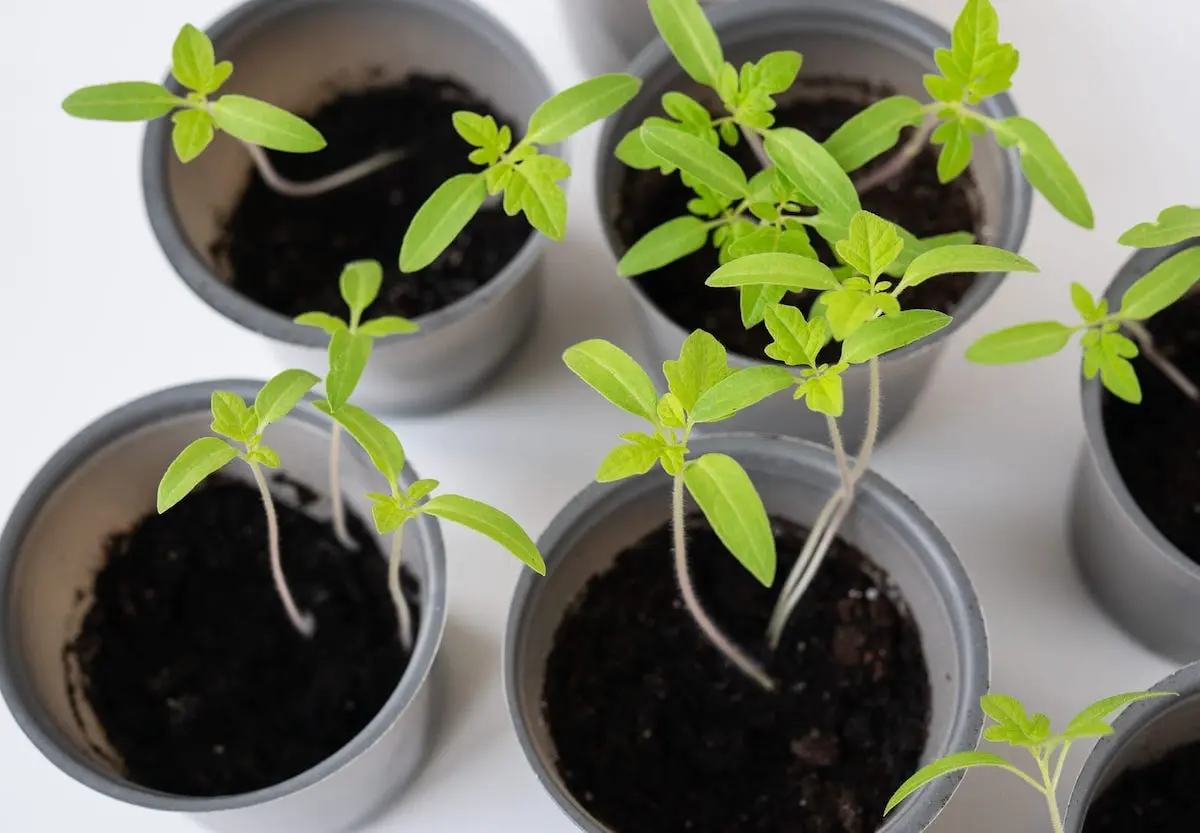 Step 6 – Translating the seedlings into larger containers
Once you see true leaves, you can transplant the seedlings in larger containers or plant them outdoors in your garden. Remember not to take them outside until the last frost has passed. 
Step 7 – Harden off the tomato seedlings.
It is not a good idea to immediately plant indoor seedlings outside. Moving them outdoors all at once can shock them.
Instead, you need to harden them off. Take them outside for a short time, and then bring them back indoors.
Then, take them outside for a little longer before bringing them indoors again. The next time you put them outside, do so for a bit longer again. After you have done this repeatedly, they will get used to living outside. You can then put them outdoors to stay.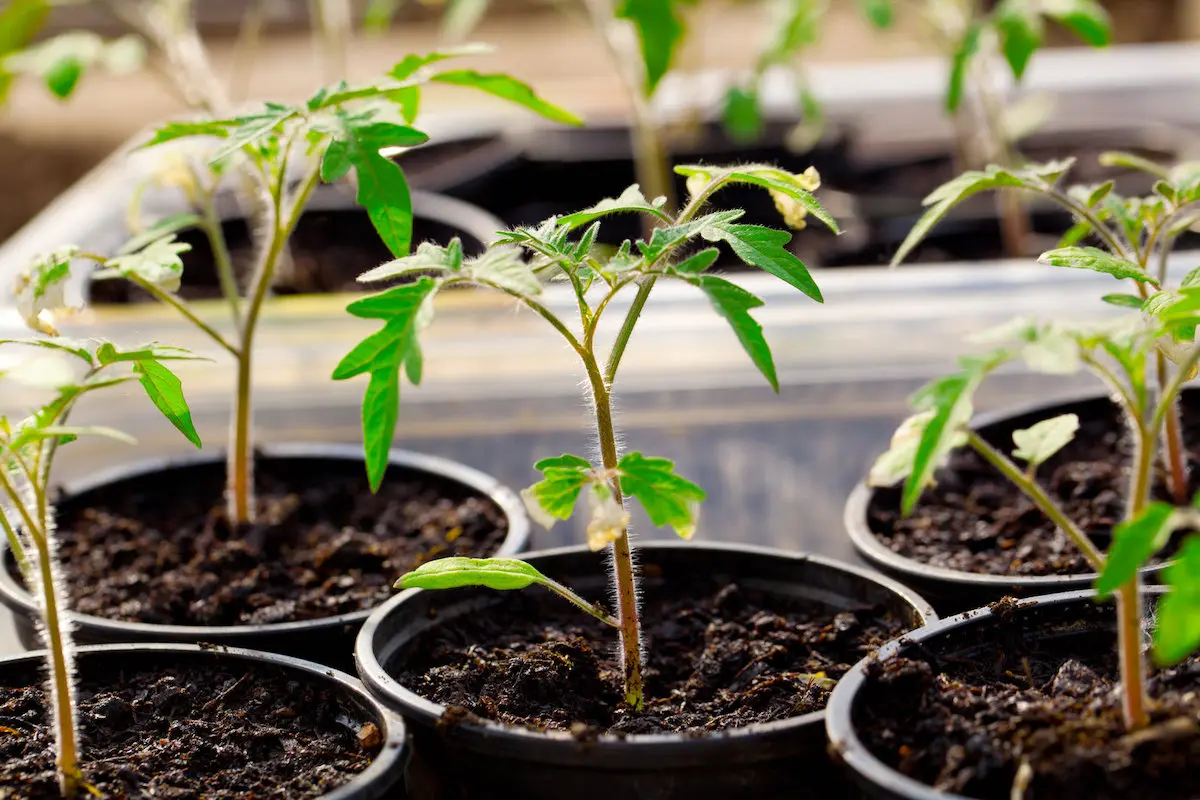 How to Care for Cherokee Purple Tomatoes
Cherokee Purple heirloom tomatoes are fairly easy to grow, but to be successful, you do need to be willing to put some time and energy into their care. Let's discuss what you should know about pruning, mulching, and more.
Mulching
You should mulch your tomatoes immediately after you plant the seedlings. Peat moss or straw are two particularly good options. 
Mulching around your tomatoes keeps the soil from eroding, prevents weeds, locks in moisture, and protects the roots of your plants from rising and falling temperatures with a layer of insulation.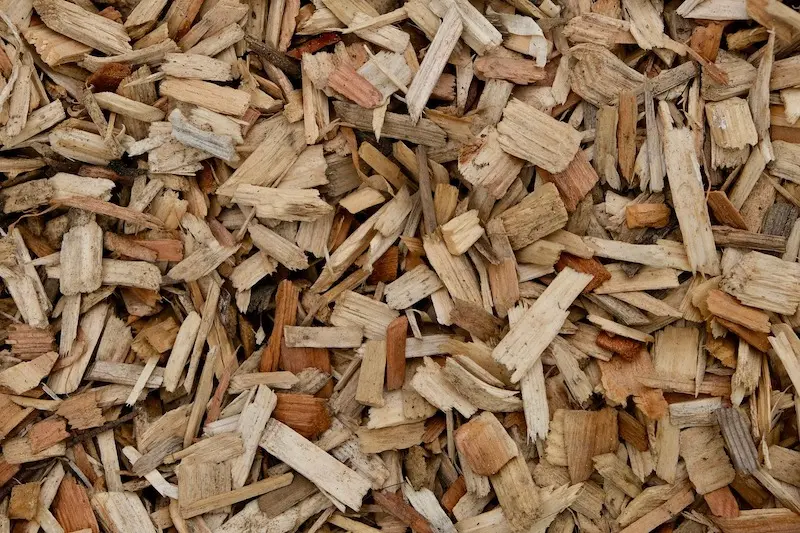 Take care that you do not place the mulch right up against the stem of the plant. Putting the mulch too close can trap moisture in exactly the wrong place and lead to rot. 
Staking
Cherokee Purple tomatoes have an indeterminate growth habit. That means they do not have a set limit to how much they grow for the year. It just depends on how much growth they manage to put on before frost kills them. 
For that reason, you should use a staking system that is at least 5-7 feet tall. A shorter staking system will not be sufficient. 
Should you go with traditional staking or with caging? Most gardeners opt for staking rather than caging for tomatoes with indeterminate growth habits, but it is ultimately up to you based on your preferences.
Pruning
Prune your Cherokee Purple heirloom tomatoes both early and late in the season.
During the early part of the season: Check the junctions between the stems to see if you can spot any side shoots. These are called "suckers." Pinch these off to rein in the tomato plant's growth. Doing so will help it conserve its energy and put it toward the production of fruits. However, ensure you do not overdo it, or you might thin out the foliage too much.
During the late part of the season: When temperatures begin to drop, you want to shift the plant's energy use toward ripening existing fruits. The way to accomplish this is with a specific type of pruning called "heading back." Look for a lateral bud close to the plant's growth head. Make your cut to remove the head right over the bud, leaving the bud itself intact.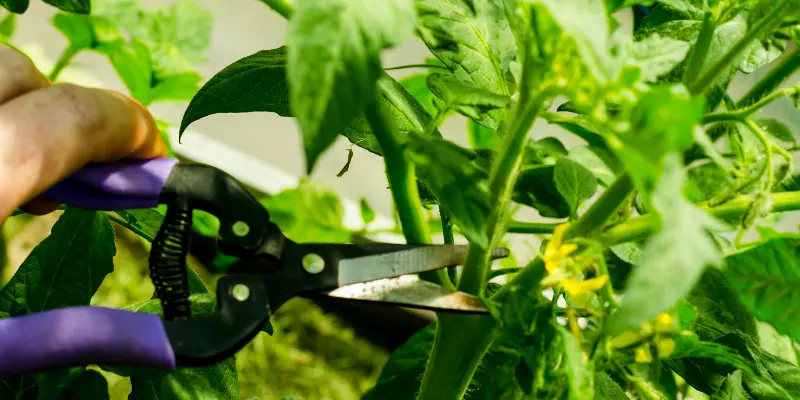 What about during the middle of the season? Pruning needs are minimal during that time, but sometimes tomato plants will develop stems that don't end up producing fruits or might even be unhealthy or damaged in some way. You can feel free to trim these off. 
Fertilizing
Some sources say that you should use a balanced liquid fertilizer for Cherokee Purple tomatoes, while others suggest different ratios. You might want to try something that is higher in phosphorus early in the season and contains lower but equal amounts of nitrogen and potassium (i.e., 5-10-5).
Later in the season, you could try switching to a formula that is higher in potassium and phosphorus, like 6-24-24. 
Getting the right amount of nitrogen can be tricky. If you give your plants too much nitrogen, then tomato yields can decrease. You will just end up with a ton of foliage. 
But if your plants do not get enough nitrogen, you can find yourself with the opposite problem. You will have too few leaves, and sunscald may become an issue. Some trial and error might be necessary to get the right balance of nutrients in your fertilizer.
How frequently do you need to fertilize Cherokee Purple tomatoes?
The consensus among the majority of gardeners is every two weeks or so. But some gardeners suggest every 4-6 weeks. We would suggest initially going with every two weeks and then decreasing the frequency if that seems appropriate.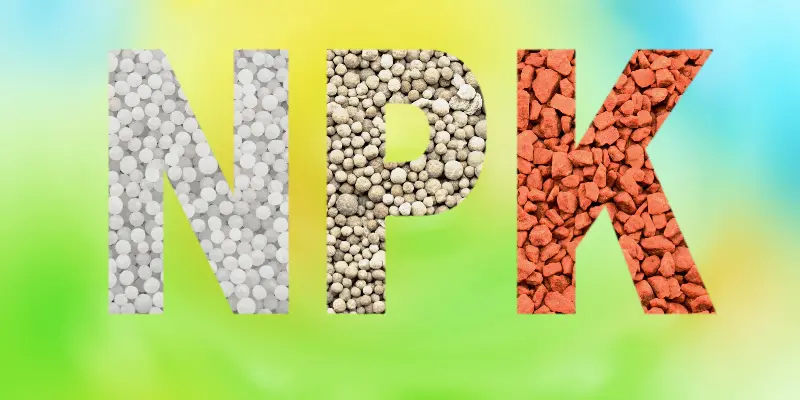 Keep in mind that when you grow tomatoes in containers, they require more frequent fertilizer applications than in your garden beds. Fertilize them every other week.
Ideally, you need to have a fertilizing schedule to keep track of it.
Dealing with Diseases, Pests, and Other Problems
Cherokee Purple tomatoes are less likely to contract diseases than many other heirlooms. However, they can still suffer from Fusarium wilt, late blight (potato disease), botrytis gray mold, black mold, mosaic virus, powdery mildew, and others. Planting your tomatoes far enough apart in well-draining soil can help prevent many diseases.
Is something eating your Cherokee Purple tomatoes? It could be aphids, different types of caterpillars, armyworms, blister beetles, slugs, or snails.
Tomato stems and foliage are poisonous to animals, so mammals are not too likely to cause issues. But occasionally, a squirrel, chipmunk, or deer might still try to eat the fruits or other parts of the plants. 
Along with these pests and diseases, here are a few more potential concerns:
Blossom end rot
Few discoveries are as frustrating as examining your tomatoes while they are getting ripe, only to find that the bottoms of them are rotting. Discard these rotting fruits. Here's what a blossom end rot look like on a Cherokee purple tomato plant: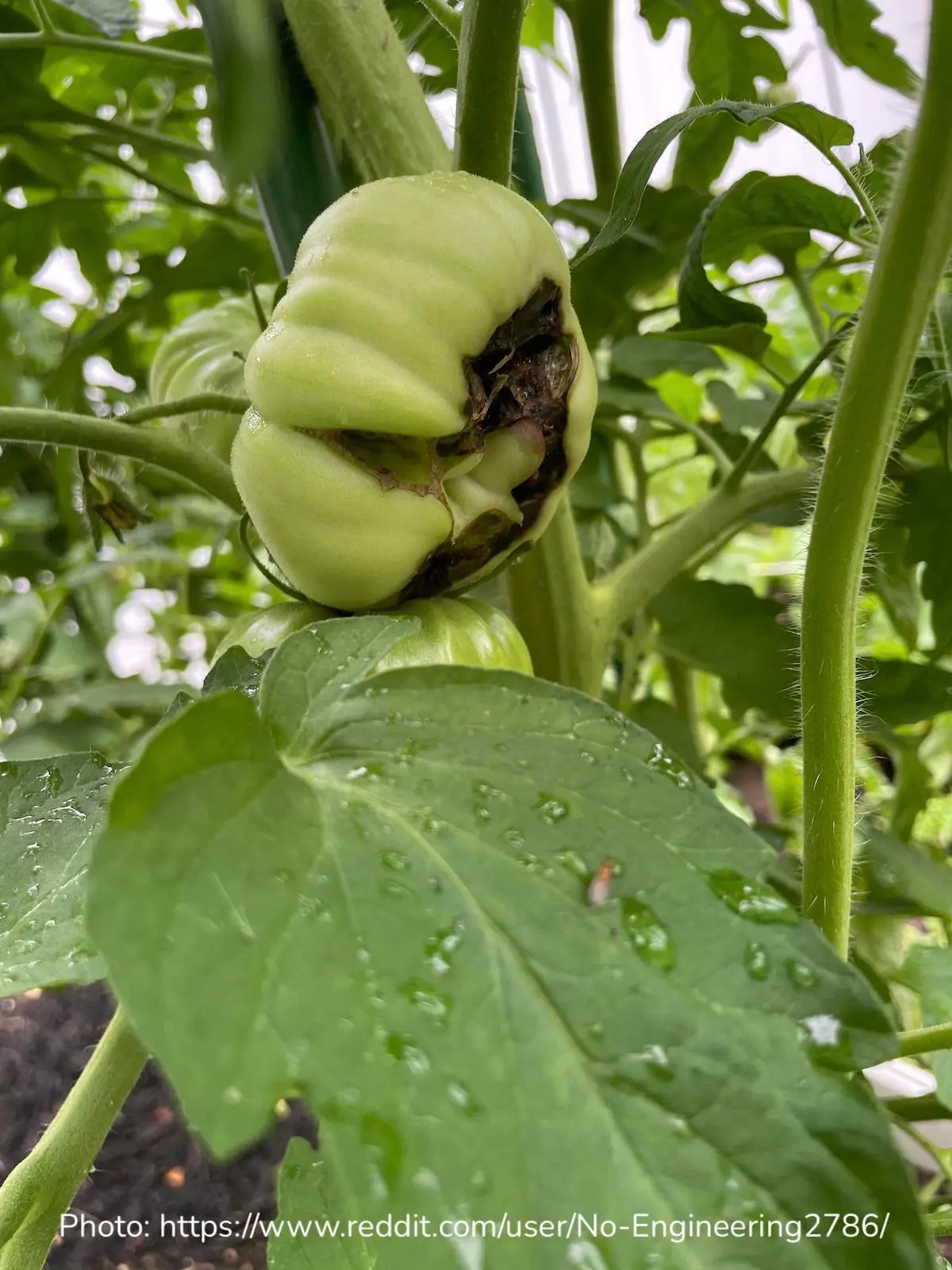 Ensure you are not under nor overwatering your plants and that there is plenty of drainage. Hopefully, the issue will resolve itself with time.
Flower drop
Sometimes tomato plants experience "flower drop" or "blossom drop." It often occurs when a gardener plants their tomatoes outdoors too early in the year. As these names suggest, the blooms drop, but the plant does not go on to produce tomatoes.
Planting in conditions that are not subject to extreme fluctuations in temperatures and ensuring they get enough water during droughts will help prevent flower drops.
Malnutrition
Tomatoes that are not receiving adequate nutrition may have pale foliage. Amending the soil with compost before planting and regularly fertilizing can help prevent malnutrition and restore yellowing foliage. 
Sunscald
We have already discussed Sunscald a bit but did not say what it looks like. If your tomatoes have brown patches with a scaly texture, that is probably what is going on. As we mentioned before, more nitrogen can boost leaf production, which can help prevent sunscald. Try not to prune too aggressively as well.
Summary
Growing Cherokee Purple tomatoes requires dedication and care. But even if you are a beginner, you should be able to grow and harvest them successfully. When you cut open the dusky fruits and take a bite of juicy, smoky sweetness, all of that hard work will have paid off.
Frequently Asked Questions About Cherokee Purple Tomatoes
Q: What is the growth habit of Cherokee Purple tomatoes?
A: The Cherokee Purple tomato plant grows as an indeterminate vine. 
Q: Do Cherokee Purple tomatoes do well in pots?
A: Cherokee Purple tomatoes can thrive in containers. Just make sure you plant them in large enough pots and that you give them plenty of water and fertilizer. However, some gardeners may find them inconveniently large for container planting and find them easier to grow in their garden beds.